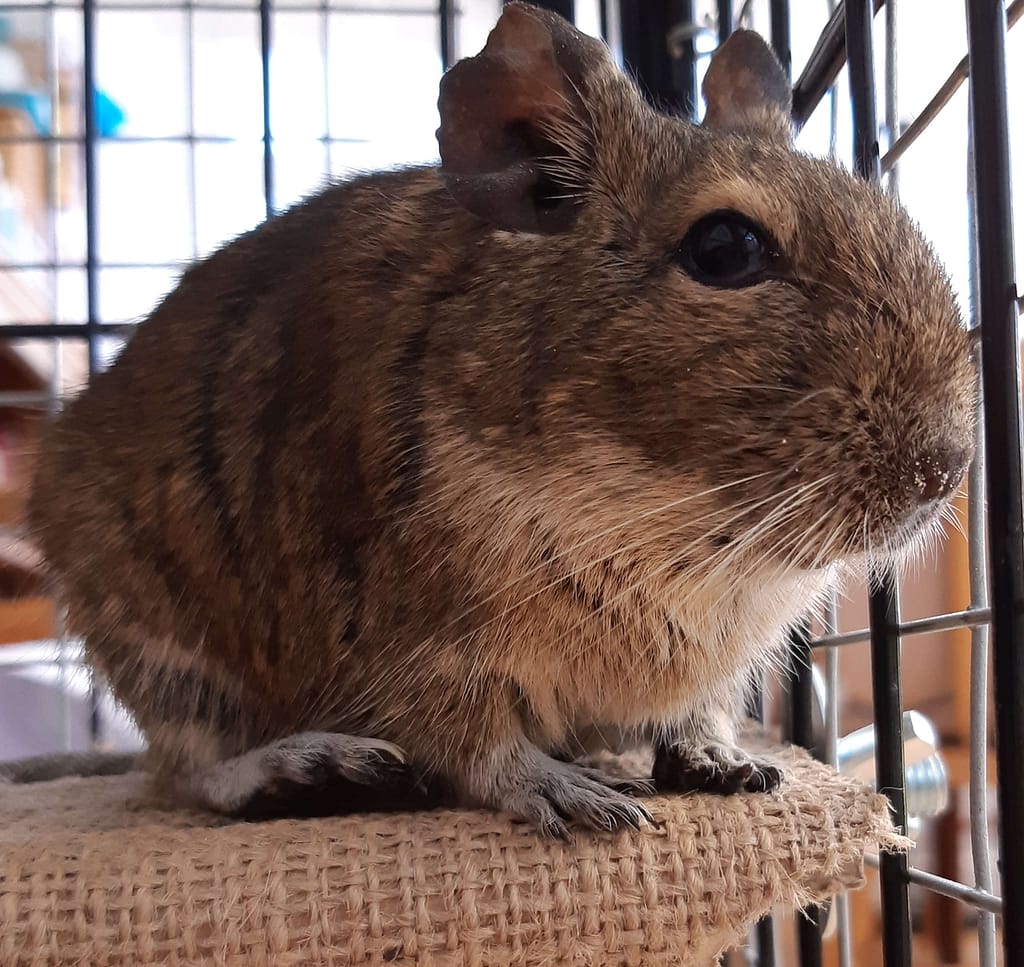 Rocky – CEO
Rocky was appointed CEO of Totally Degu after Castor left the company, by virtue of being the longest serving. He has a much different management style to Castor, which can only be described as a cross between authoritative and coercive.
Ginger – Middle Management
Being middle-management means Ginger dislikes those above him and those below him. As a result, he spends his day sitting on his own dreaming of packing it all in for a quieter life of contemplative chewing.
Alan – Operations
Alan does all the real work! Running around all day packing all the great products ready for posting. This makes him constantly angry and generally unapproachable.
Scramble – Logistics
Scramble started with Totally Degu as an apprentice. He worked hard through our extensive training program and was the obvious replacement for Pollox when he left us (he is massive). All our stock us now carefully piled in the middle if the warehouse ready for customers.
Fly – Company Welfare Officer
Some days the pressure of making and packing all the amazing products becomes just too much – this is where Fly kicks into action, jumping on your arm running up to your ear and nibbling……instant calm.
Mouse – Risk Manager
Being terrified of every thing and everyone made Mouse the standout candidate for the risk management position (if she wasn't hiding). Mouses office is packed full of files showing the dangers of the world……especially pigeons. Half an hour on her octodon risk management course, you will never sleep again!
Rex – Job title unknown
Everyone at Totally Degu Towers knows Rex, it seems like he has been around forever, but ask what job he does and all you see are a lot of blank furry faces. In truth he is just dialing it in day after day until retirement.
Pebble – Apprentice (IT Support)
Pebbles a is whiz with computers! Start a conversation at your own peril. He will squeek on for hours about them, your eyes will glaze over, and you won't understand much of it. He can be found at Totally Degu Towers, hiding in the basement…….give a warning before approaching and make sure you have already turned your computer off and on again before asking for help!
Daryl – Apprentice (Admin)
Daryl was the obvious choice for the administration role……he just loves paperwork. He happily moves paper around, filing it in his basket………..just don't be surprised if your invoice arrives a little degu chewed around the edges.